We will pay rewards for information of up to $1,000 in the Student CrimeStoppers program and up to $1,000 in all other matters.
CrimeStoppers Honolulu encourages members of the community to assist local law enforcement agencies in the fight against crime by overcoming the two key elements that inhibit community involvement: fear and apathy.
CrimeStoppers Honolulu provides a secure telephone number and a secure server for Web Tips to encourage citizens in the community to volunteer vital information helpful to law enforcement agencies to fight against crime and to help keep our neighborhoods and educational campuses safe.
Callers can remain anonymous and are eligible to receive a cash reward if the information given leads to an arrest, identification of a criminal perpetrator, recovery of stolen property or seizure of illegal contraband.
CrimeStoppers Honolulu has expanded the program to include affiliated Student CrimeStoppers and Animal CrimeStoppers programs. In these programs calls and information eligible for rewards includes activities occurring on educational campuses that is illegal or disruptive to the educational systems or in the case of Animal CrimeStoppers, any activity that also harms any animal.

CrimeStoppers Honolulu relies on a professional, sworn police staff assigned by the Honolulu Police Department, volunteer phone operators and an all volunteer board of directors. Fund raising events and tax deductible contributions from the public allow us to operate and administer the program.
NOTICE: The information contained in this Web site has been compiled from a number of sources and is subject to change without notice. We have attempted to provide current and accurate information, but incorrect information may appear on the pages. Should you come across any misleading, inaccurate or otherwise inappropriate information, please bring it to our attention via the contact page as soon as possible.
This server is generally available 24 hours a day, seven days a week. Timely delivery of data and products from this server through the Internet is not guaranteed.
---
Give Aloha at Foodland to Help Raise Funda for CrimeStoppers!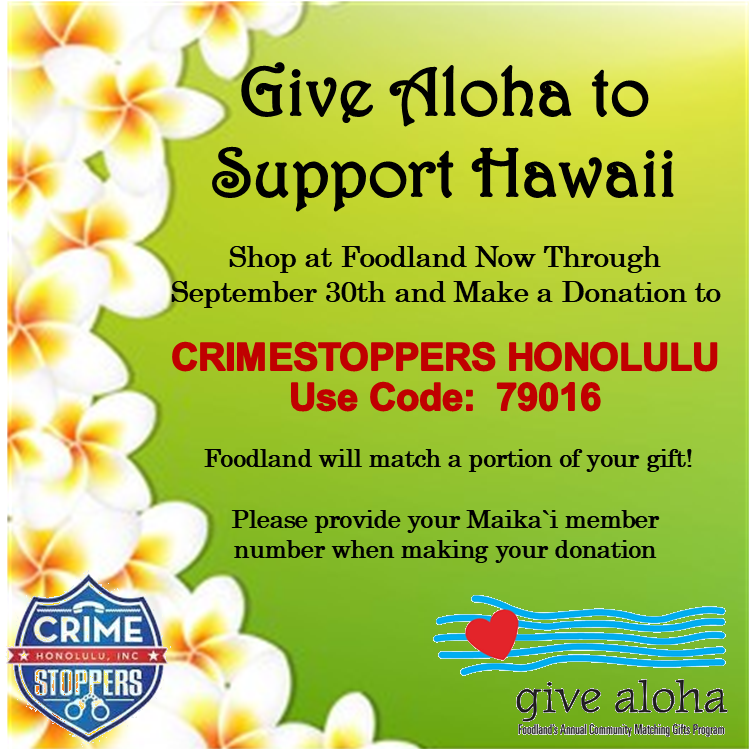 CrimeStoppers Honolulu is participating in Give Aloha, Foodland's Annual Community Matching Gifts Program. This program honors Foodland's founder, Maurice J. "Sully" Sullivan, and continues his legacy of giving back to the community.
CrimeStoppers Honolulu, a 501(c)(3) non-profit organization, needs your kokua now more than ever as reward money paid to tipsters are solely from donations.
As a supporter of CrimeStoppers Honolulu, you understand crime of any kind hurts our neighborhoods, businesses and the foundation of our local culture. CrimeStoppers Honolulu provides a secure means to encourage citizens in the community to volunteer vital information helpful to law enforcement agencies to fight against crime.
How It Works
From September 1-30, customers are invited to make donations of any amount up to $249 to participating Hawaii non-profit organizations at any Foodland or Sack N Save store statewide. Foodland and the Western Union Foundation will match a portion of each donation. Individuals must use their own Maika'i membership to make a donation. Donations made without a Maika'i membership will not be matched.
How to Donate
At checkout, present your Maika'i card (or provide your Maika'i member number) and inform the cashier that you would like to make a donation to CrimeStoppers Honolulu, code number 79016. If you do not have a Maika'i card/number, you may request to establish one. Your donation will be added to your grocery purchase total. You may donate up to $249 per organization; any portion exceeding $249 will not be matched. The amount you donate, and the name of our organization will appear on your receipt. Donations must be payable to Foodland or Sack N Save.
Acknowledgement of Your Donation
Donor names will not be released to our organization. Therefore, if you would like to us to know of your gift, please contact us directly so that we may properly acknowledge your gift. You may ask the cashier for a duplicate receipt to submit to us.
Are These Contributions Tax Deductible?
These contributions are tax deductible to the fullest extent of the law. Please save your store receipt for tax purposes since it will be the only record you will have of your donation(s).
Matching Gift
Matching gifts will be determined at the end of the program. Our organization will receive 100% of all customer donations given to us, plus each donation made with a Maika'i card, will be partially matched by a gift from Foodland and the Western Union Foundation.
Questions?
Please contact Foodland at (808) 732-0791 if you have any additional questions.
For more information on CrimeStoppers Honolulu, visit our website at honolulucrimestoppers.org.
On behalf of the Board of Directors, MAHALO NUI LOA for your continued support of CrimeStoppers Honolulu.
A Hui Hou Kakou!
---
Hawaii Area Combined Federal Campaign
Crime Stoppers is proud to participate in the Hawaii Area Combined Federal Campaign (CFC). The CFC allows Federal Employees or Federal retirees to make donations through their payroll, through an annuity, or by check or credit card. Please consider Crime Stoppers for your annual donation. Our CFC number is 97921.

Crime affects everyone in our community, and Crime Stoppers works hard to ensure criminals are held responsible for their actions. You can do your part by making a donation. Your donations help us get important information into the hands of law enforcement, so they can do their job. We are a nonprofit and rely on donations from thoughtful community members such as yourself. We appreciate your support in helping us to fight crime.