We will pay rewards for information of up to $1,000 in the Student CrimeStoppers program and up to $1,000 in all other matters.
CrimeStoppers Honolulu encourages members of the community to assist local law enforcement agencies in the fight against crime by overcoming the two key elements that inhibit community involvement: fear and apathy.
CrimeStoppers Honolulu provides a secure telephone number and a secure server for Web Tips to encourage citizens in the community to volunteer vital information helpful to law enforcement agencies to fight against crime and to help keep our neighborhoods and educational campuses safe.
Callers can remain anonymous and are eligible to receive a cash reward if the information given leads to an arrest, identification of a criminal perpetrator, recovery of stolen property or seizure of illegal contraband.
CrimeStoppers Honolulu has expanded the program to include affiliated Student CrimeStoppers and Animal CrimeStoppers programs. In these programs calls and information eligible for rewards includes activities occurring on educational campuses that is illegal or disruptive to the educational systems or in the case of Animal CrimeStoppers, any activity that also harms any animal.

CrimeStoppers Honolulu relies on a professional, sworn police staff assigned by the Honolulu Police Department, volunteer phone operators and an all volunteer board of directors. Fund raising events and tax deductible contributions from the public allow us to operate and administer the program.
NOTICE: The information contained in this Web site has been compiled from a number of sources and is subject to change without notice. We have attempted to provide current and accurate information, but incorrect information may appear on the pages. Should you come across any misleading, inaccurate or otherwise inappropriate information, please bring it to our attention via the contact page as soon as possible.
This server is generally available 24 hours a day, seven days a week. Timely delivery of data and products from this server through the Internet is not guaranteed.
---
Postponed: 9th Annual Charity Golf Tournament
CrimeStoppers Honolulu stands with the Maui community, which has suffered unimaginable loss. To ensure that we do not take any focus away from our friends and family on the Valley Isle, we have decided to cancel our upcoming golf tournament (originally scheduled for late October); we plan to hold that fundraiser in early fall 2024.
---
Hats Off to CrimeStoppers
Mahalo to all of the organizations and individuals who helped make our 2023 gala fundraiser a success!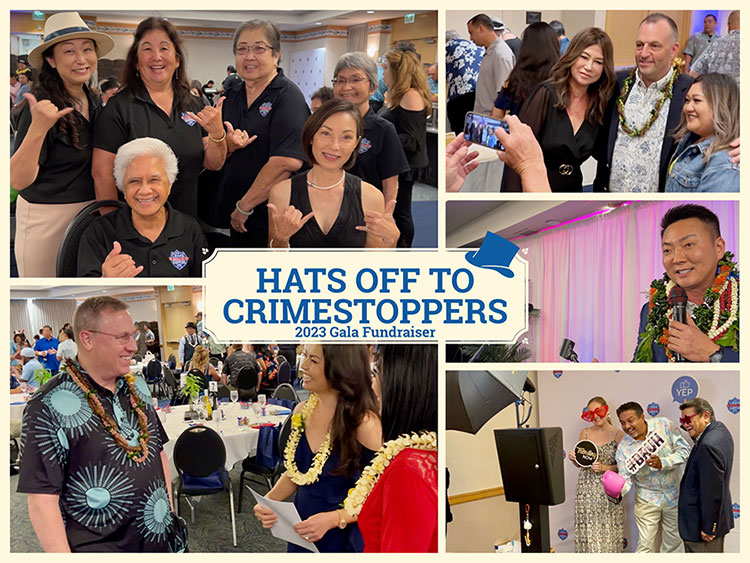 ---